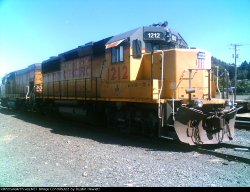 Welcome to the RRPictureArchives.NET contributor site of Dustin Hewlett.

Hey all, I'm Dustin, I live in Springfield, Oregon and most all of my photos are from that area. I apologize about any poor quality, my camera is just the one that comes built in to the Palm Zire 72, hence the fact that I only photograph still equipment.


You may browse my collection of pictures via the menu located on the left hand side of the page. I hope you enjoy the collection and thanks for stopping by!
Note: This site is best viewed in Internet Explorer 6.0 or above.
Select one of the links from the menu on the left to begin browsing the collection.